This is an interesting Parish
When the pulpit of St Palladius's Chapel was being dismantled in 1787, a large sculptured slab was discovered below it.
This stone, which may have been hidden there during the Reformation, is two metres tall and pierced by four circular holes in the upper half.
One side is elaborately carved with a Latin cross and a hunting scene showing armed horsemen and a dog.
The Pictish symbols of double disc and Z rod are also clearly engraved. Around the edge the letters "pidarnoin" are roughly incised in early Roman script.
This may perhaps mean "Peace be with Idarnoin", he was a 7th century Pictish bishop.
The stone is now in the vestibule of the parish kirk.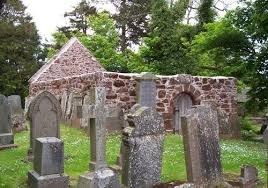 The ruins of St Palladius Chapel stand in the graveyard of Auchenblae Parish Church.
I

t is typical of early Christian sites, with the chapel located on top of a steep bank above a stream.
The chapel is associated with the 5th century monk St Palladius whose bones were kept as relics at the chapel.
The current building is medieval in date although is said to stand on the site of a 5th century cell established by the saint.
The chapel was repaired a number of times until the roof collapsed in 1828, when it was abandoned and a new church, the parish church, was built alongside.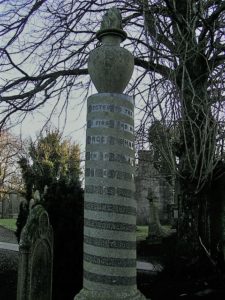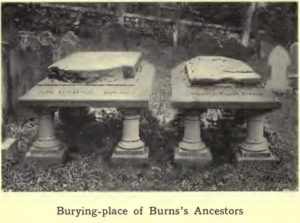 Glenbervie Church
The
kirkyard
in Glenbervie is the final resting place of the great grandparents of the noted Scottish poet
Robert Burns